Click here to return to home: www.barry15.com
2013 Australia Trip
This will be my sixth birding trip to Australia. I plan to leave Seattle on September 22, 2013 and return on November 7, 2013. I'll be flying via Los Angeles, on Alaska Airlines and Delta Airlines, arriving in Sydney on Tuesday, September 24. After five nights in Sydney, I'll visit a couple of birding locations near Sydney and then head inland and north. My next major destination is Bowra Station, a former sheep and cattle ranch in Southern Queensland, now owned by a bird conservation group. I plan to spend four nights there, and I expect it to be one of the birding highlights of the trip.
From there I plan to head back to the coast, where I will spend the weekend with a birding mate that I met on my 2008 trip. Then I will head north along the coast of Queensland. Another expected highlight of my trip will be a day trip to Lady Elliot Island in the Great Barrier Reef. I'll fly in a small plane (9 or 13 passengers) from Bundaberg for the day, and I expect to have 6 or 7 hours on the island. There will be some different birds, but it will also be a chance to snorkel and see the reef.
I'll continue up the Queensland coast, stopping several places for birding, and then spend three nights in Townsville, before moving on up the coast to Far North Queensland. There I'll spend a couple of nights on the Atherton Tablelands, four nights in Cairns (another of the birding highlights of the trip), and then go on up to Daintree for a two hour dawn boat trip on the Daintree River, which should be productive for some more birds. I then plan to finish off the trip with four nights at Kingfisher Park Birdwatchers Lodge in Julatten, probably hiring a guide for one day to pick up some elusive species that it would be hard to see on my own.
To get home, I will fly to Sydney, stay overnight, then fly to Los Angeles, where I will again stay overnight, to recover a little from the long 14 hour flight, then fly home to Seattle on November 7. I'll be gone 46 nights altogether, of which 43 will be spent in Australia, in 20 places. I'm expecting to drive 3500 to 4000 miles on the trip; Australia is a large country. I have hopes of seeing as many as 300 species of birds, although that will be something of a challenge. The highest number I have seen on any of my five previous trips was 288 in 2008, so I especially would like to exceed that number.
I plan to write reports, with pictures included, while on the trip, and I'll post them here, as well as send each one by email to people who have expressed interest in getting daily reports. If you would like to get on the daily email list, let me know at birder1944@aol.com. To see the reports, click this link:
Detailed reports with pictures
Here is a map of the whole country, showing my planned route.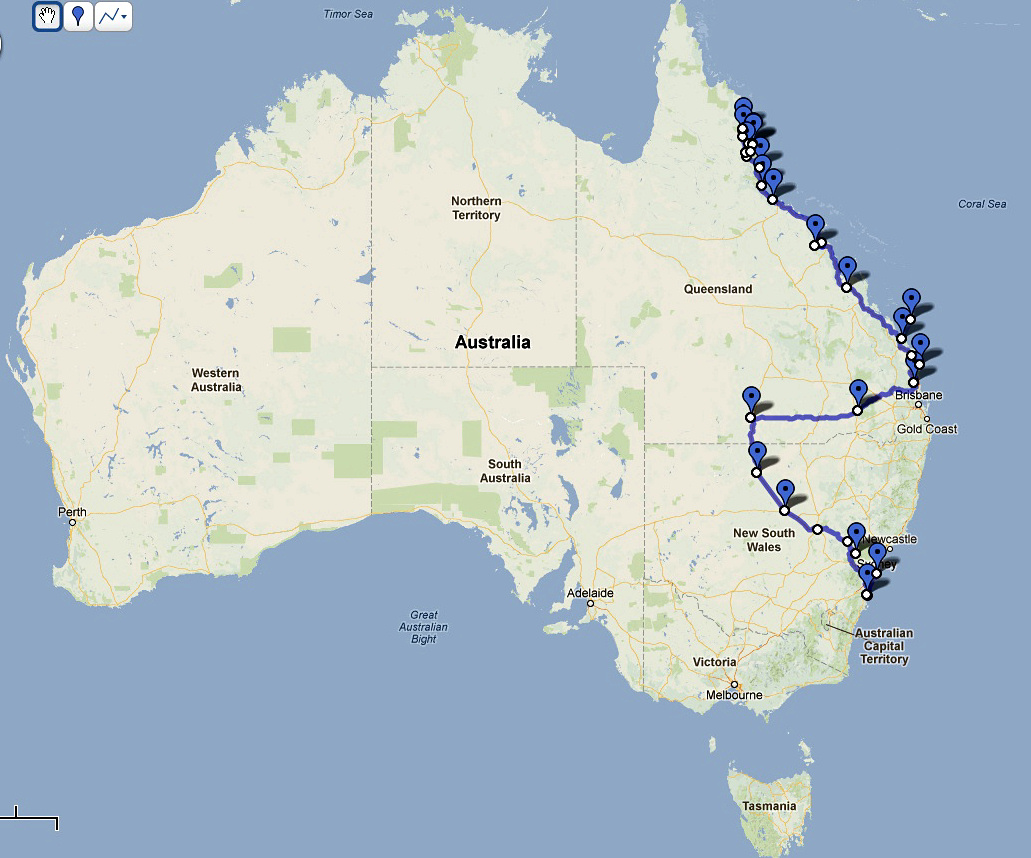 To see an interactive version of that map, which will allow you to zoom in and pan around, click here: Interactive Map
Here is my detailed itinerary:
Leave Seattle on Sunday, 22 September
Sydney, New South Wales – arrive Tuesday, 24 September, 5 nights
Jamberoo, NSW – arrive Sunday, 29 September, 2 nights
Glen Davis, Capertee Valley, NSW – arrive Tuesday, 1 October, 3 nights
Nyngan, NSW – arrive Friday, 4 October, 1 night
Bourke, NSW – arrive Saturday, 5 October, 1 night
Bowra Station, Cunnamulla, Queensland – arrive Sunday, 6 October, 4 nights
Moonie, Qld – arrive Thursday, 10 October, 1 night
Mapleton, Qld – arrive Friday, 11 October, 3 nights
Rainbow Beach, Qld – arrive Monday, 14 October, 2 nights
Bundaberg, Qld – arrive Wednesday, 16 October, 2 nights
Lady Elliot Island, Great Barrier Reef – Day trip on Thursday, 17 October
Marlborough, Qld – arrive Friday, 18 October, 1 night
Eungella, Qld – arrive Saturday, 19 October, 1 night
Townsville, Qld – arrive Sunday, 20 October, 3 nights
Ingham, Qld – arrive Wednesday, 23 October, 1 night
Mission Beach, Qld – arrive Thursday, 24 October, 1 night
Atherton, Qld – arrive Friday, 25 October, 2 nights
Cairns, Qld – arrive Sunday, 27 October, 4 nights
Daintree, Qld – arrive Thursday, 31 October, 1 night
Julatten, Qld (Kingfisher Park Birdwatchers Lodge) – arrive Friday, 1 November (my 69th birthday), 4 nights
Fly from Cairns to Sydney – Tuesday, 5 November
Sydney, NSW – arrive Tuesday, 5 November, 1 night
Fly from Sydney to Los Angeles – Wednesday, 6 November
Los Angeles – arrive Wednesday, 6 November, 1 night
Fly from Los Angeles to Seattle – Thursday, 7 November